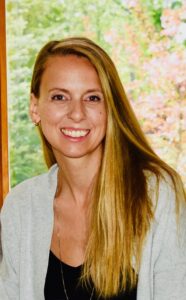 Erica is a Registered Acupuncturist and Traditional Chinese Medicine Practitioner.  Erica graduated with distinction from a five-year Doctorate program in Traditional Chinese Medicine from Kootenay Columbia College of Integrative Health Sciences (KCCIHS) in 2019; after completing her Bachelor of Arts in Psychology at Mount Royal University in 2012.
Her passion for Chinese Medicine developed from her own experiences with various autoimmune diseases, relentlessly trying to find various ways to mitigate her symptoms through a more holistic approach. Through her own experience of having a long-standing illness, she has a special interest in working with individuals with autoimmune diseases, by working to find the root cause for each individual.
Erica sees health as a constantly changing and dynamic process that allows one to adapt to life's ever challenging times. By listening and observing the body, one can uncover the underlying patterns and factors that may be blocking an individual's innate capacity to heal. This intrinsic ability to heal can be accomplished through methods such as acupuncture, herbal medicine, gua sha, cupping, tui na (Chinese massage), and nutritional counselling.
Erica was born and raised in Salmon Arm, BC, and is excited to be moving back to her hometown to start her practice. When not treating patients, you can find her out in her garden, on a mountain bike, cross country skiing, snowboarding, or paddle boarding.
Erica is board certified and a licensed registrant in good standing with the College of Traditional Chinese Medicine Practitioners and Acupuncturists of British Columbia (CTCMA).
Certifications
Sports Medicine Acupuncture Certification (SMAC)
5-day Cadaver Dissection Lab with Matt Callison in Boulder, Colorado
If you would like to book a treatment with Erica, call 250-833-5899 or book online.
---