Our therapists are Registered with the College of Massage Therapy of BC. Registered Massage Therapists (RMTs) have the highest standards in North America after completing a rigorous three-year training program. All Registered Massage Therapists are required to participate in ongoing training and education to ensure their skill remain current and relevant.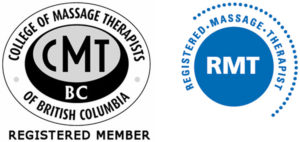 At Lakeside Health, our RMTs belong to the Massage Therapists' Association of British Columbia (MTABC). The association negotiates with the Medical Services Plan, the Insurance Corporation of BC, the Workers' Compensation Board, the BC Government and private insurers, gathers evidence through research projects and ongoing collection of massage therapy research articles.
Massage therapy is a vital part of health care in BC.
(the above was adapted from The Massage Therapists' Association (MTABC) website)
Commonly Treated Conditions
Anxiety
Arthritis (Osteo and Rheumatoid)
Bursitis
Carpal Tunnel Syndrome
Contusions
Degenerative Disc Disease
Depression
Facet Pain
Frozen Shoulder
Headaches (Tension or Migraine)
Ligament Sprains
Muscle Strains
Muscle Tension
Pain (Chronic or Acute)
Postural Imbalance
Pregnancy (pre, peri and post care)
Tendinitis
Thoracic Outlet Syndrome
TMJ Dysfunction (clenching, grinding of the jaw or alignment issues )
Sciatica
Scoliosis
SI Joint Dysfunction
Stroke
Whiplash