Low Intensity Laser Therapy (LILT). Relieve pain and speed healing.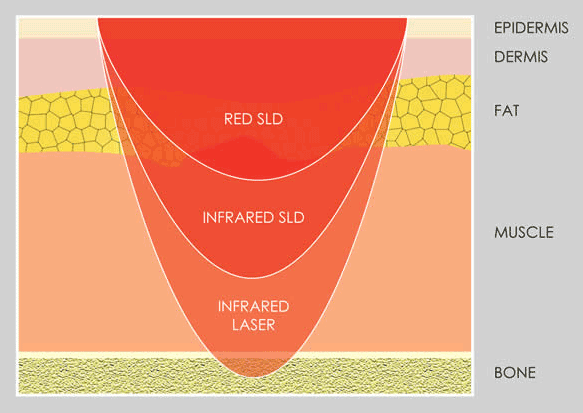 Laser Therapy has been successfully used to treat a broad range of medical conditions, including musculoskeletal problems, arthritis, sports injuries, post-surgical wounds, diabetic ulcers and skin conditions.
Low-Intensity Intensity Laser Therapy uses red and infrared light for the relief of pain, to accelerate healing and decrease inflammation.  When the light source is placed against the skin, the photons penetrate and are absorbed by mitochondria, the energy-producing part of a cell.  This facilitates tissue repair and accelerates wound and tissue healing. 
Low-Intensity Laser Therapy is non-invasive, non-toxic and often provides a treatment alternative for patients that have not responded to other therapies.

What makes Light Therapy so effective?
LILT jump-starts the body's natural healing process. Unlike drug treatments that mask pain or only address symptoms, Low-Intensity Laser Therapy treats the underlying condition to promote and accelerate healing.  Treatments are very effective and the benefits are long-lasting.
Treatments can last between 15 minutes to over 1 hour depending on the condition and area being treated.  The number of treatments vary as every patient and condition responds to Laser Therapy uniquely.  A free consultation will help you better understand your treatment plan.
The Toronto Raptors, Maple Leafs and the Blue Jays, the Miami Heat, the Canadian National Ballet Company along with many other high-performance organizations utilize laser therapy technology as the basic treatment platform for athletic injuries.
This video gives a simple explanation of how Laser Therapy works.
Lakeside Health (Shuswap Acupuncture) has 10 years of experience with laser therapy.
LILT could be the answer to your chronic pain and healing
The following systematic reviews have found in favour of LLLT: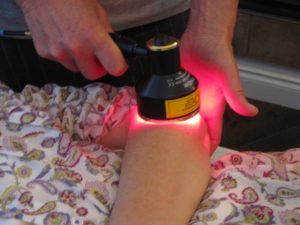 BMJ sports medicine journal, systematic review of surgical and conservative interventions for frozen shoulder found "strong evidence" for LLLT. (2010)
The International Association for the Study of Pain (Global Taskforce on musculoskeletal pain) found "strong evidence" for Low-Level Laser Therapy on myofascial pain syndrome. (2010)
American Physical Therapy Association guidelines recommend LLLT for Achilles tendonitis. (2010)
Lancet systematic review: "LLLT reduces pain immediately after treatment in acute neck pain and up to 22 weeks after completion of treatment in patients with chronic neck pain". (2009)
World Health Organisation (Bone and Joint Task Force) for neck pain Low-Level Laser Therapy "more effective than no treatment, sham, or alternative interventions" (2008)
In August 2010 The Lancet reported that the systematic review of LLLT for neck pain was in their top 20 most downloaded papers for 2010.
Study by Donna Rasplica MSc, Dr.TCM, IFMCP and Cheryl Wright PhD, NP: Fibromyalgia treated successfully with laser therapy.
A collection of informative videos from YouTube. Be sure to view in full screen.